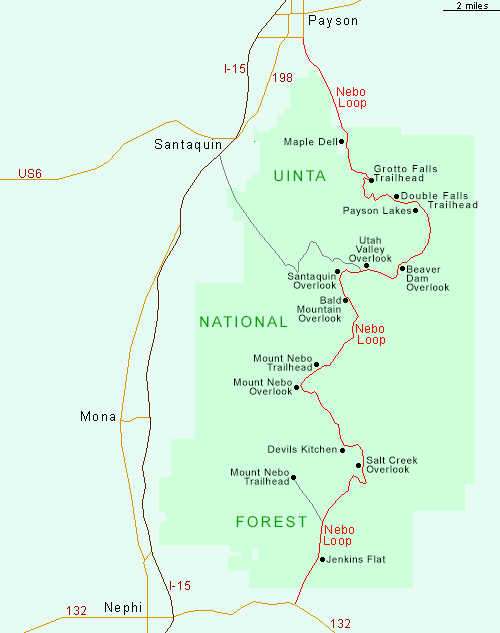 Utah Valley is a huge natural adventure park and maybe I am repeating myself but my English is not good enough to describe the views,nature and all the activities that can be done here,it sure is a paradise.
This byway crosses the Uinta National Forest between the cities of Nephi and Payson. It climbs to over 9,000 feet in elevation and provides breathtaking views of Utah valley, the Wasatch Mountains and 11,928-foot Mount Nebo, the tallest mountain in the Wasatch Range.
The Nebo Loop Byway is a photographer's dream with many overlooks and wildlife viewing opportunities. The brilliant fall foliage of the Uinta National Forest is hard to match anywhere in the nation.
Along the byway, numerous campgrounds, trail systems and popular horseback riding areas are available for exploration. A unique scenic feature is the Devil's Kitchen Geologic Interest Site with picnic facilities, a paved trail and observation deck. The spectacular red color of this amphitheater, with its many spires reminiscent of Bryce, is a brilliant contrast to the mountain greenery surrounding it. The eroded sandstone formation's startling red color adds contrast to the mountain greenery found through the rest of the byway.
The Payson Lakes Recreation Area, 12 miles south of Payson, offers hiking on paved trails, improved picnic areas, camping and excellent fishing. This byway also provides backcountry trail access into the Mount Nebo Wilderness Area.
The 38-mile byway takes about 1½ hours to complete and It is closed in the winter.
We were surprised to meet so few people on the scenic drive ,but it is a week day and people are working….someone has to , but for all of us the non workers just go and have a ball.